Mining, Processing and Helping Customers Solve Problems Using Our Zeolite
The Heath family's property "Bindawalla" - situated on the picturesque flanks of 'Castle Mountain' with views overlooking the township of Quirindi – saw a zeolite deposit uncovered in early 1989.
With the goal of nurturing local enterprise and developing applications for this unique mineral - Castle Mountain Zeolites (a privately owned company) was established in 1991.
Prior to his passing, company's first Chairman - Ken Heath, proudly handed the reins to his son Gordon Heath, with Gordon's son, Kurt and wife Kate actively involved as Mine Manager and Office Manager.
Sustainability
From our front door, to the environment, we are driven to creating positive impacts for a better future.
With a zero waste policy, we wisely use every aspect of the amazing resource extracted from our quarry.
We have proudly achieved sustainability in energy and water ensuring our business is carbon and energy neutral.
Over 400 solar panels produce much of our own power through a 100 KW system located on the roof of our processing plant - we are researching batteries to store power when the plant is not operating to conserve the power for later use instead of feeding it back into the grid.
Our site is independent of any town infrastructure, incorporating our own water captured by rain water tanks.
Embracing a reduced carbon footprint, our shipments are aggregated to reduce fuel used to deliver products to our customers.
Our products have a diverse range of environmental, wholistic and remedial uses:
Assisting in the provision of nutritional supplementation by increasing nitrogen efficiency of animals and birds;
To remediate soil;
To increase production in horticulture and broad-scale agriculture with no negative environmental consequences;
We support aquaculture by improving and maintaining water quality in both fresh and salt water;
We maintain air and water quality in the environment;
We are able to reduce nutrient buildup in natural water systems;
We remove noxious gases particularly in sewage treatment plants and treat chemical emissions from road tunnels;&,
We can assist in the treatment of industrial wastes so as to not provide negative environmental consequences.
Our Team

Gordon Heath
Energetic and community minded, Founder and Managing Director of the business – Gordon Heath is passionate about the quality of product and operations of the mine.
With a love of all things engineering, Gordon is continually looking at efficiencies and was instrumental in the unique design of the processing plant and its workings.
As part of his daily routine, he walks to the mine every morning – to give operations a once over – during this 6.30am sojourn is also where some of his greatest innovations/problems are created/solved.
Company staff joke, that Gordon will find a problem if there isn't one – such is his drive for constant improvement.
His life and business partner, Fran is an integral part of the team and as shared the journey with Gordon since the beginning.
Rick Brady
Everyone is nice to Rick… not only is he a professional and a gentleman, but, he also controls the business expenditure.
As the Company Secretary + Accountant, Rick has been with the business since its inception and is a man of many talents as he keeps the business wheels turning.
Staff describe Rick as a constant… always on top of things and always approachable.
As well as a skill for business, Rick enjoys leisurely rides on his motorcycle.
Dr David Tomlinson
The brains trust of the operation for over 20 years, Dr David's academic achievements take some time to read and the company counts themselves fortunate to have such a depth of scientific excellence in David's knowledge of this "marvelous mineral'.
As well as being Agricultural and Applied Chemist, he is also a Scientist and an Inventor and is respected as the Scientific Research and Development Consultant to the company, providing expert advice and support to the company's clients.
He can often be spotted on the road travelling to visit clients or busily typing away on his iPad responding to our clients.
A General Chemist with knowledge of most aspects of pure and applied chemistry, Dr David's expertise and in depth knowledge of surface chemistry is invaluable, and his CChem is an acknowledgement of his international status as a Chartered Chemist.
Conversations and insights are always informative with David, who, through The University of Sydney holds: BSc (Hons 1) in Agricultural Chemistry , PhD in Agricultural Chemistry, BA with majors of Education, Psychology and Philosophy, plus also passed all subjects in Preclinical Medicine.
HOW GREAT IS THIS…. DR David's: Patents awarded 22. Publications in Peer Reviewed Journals 20. Other publications 80. Conference & other presentations ~200.
Kate Heath
Vivacious and proactive, Office Manager, Kate, has been with the business since late 2017.
Kate is also the Wife of Kurt Heath, Gordon's son and Mine Manager and is a vital part of the family business.
Organised and friendly, Kate gets great work satisfaction from speaking with clients and addressing their requirements.
Recognised as the efficiency Queen, Kate is the go to person for organising freight and ensuring that orders are received, processed and dispatched correctly, efficiently and with a smile.
Mine Crew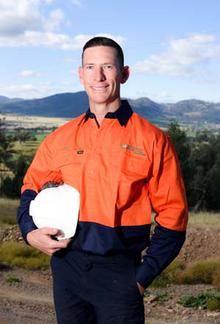 Kurt Heath
Like father like son, Kurt likes to improve how things work! With a natural-born focus on efficiencies, Kurt is our dedicated Mine Manager, having been with the family run business since moving back to Quirindi from Sydney in 2016.
He is the go-to person for ensuring we have product to process, from the quarry to processing plant and dons his Mr Fix-it cap when needed at the plant.
A genuine people person, Kurt enjoys both playing and watching sport in his downtime - especially the Formula 1 – and his favorite thing is to spend quality time with his wife Kate and their growing young family.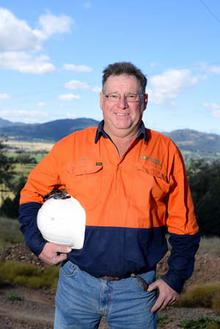 Glen (Fox) Auld
He's been from the beginning - 1998 - knows every nut + bolt of the plant and never misses a day of work.
To say Plant Manager, Fox is dedicated to the business is an understatement, he is the first onsite in the morning, not one to sleep in, rising at 4.30 am ready to tackle the day.
From sound alone Fox can tell how the plant is running and has been instrumental in the plant's development over the past 20 years.
Fox is responsible for getting product out on time and to the highest standard, fixes plant equipment when needed, and true to his hobby, Fox has a liking to be able to catch the biggest fish.